Handmade Nepali Lokta Paper
Handcrafted in the Himalayas and used anciently for sacred texts, Lokta paper has been a staple of Nepalese artisans for centuries.
The paper is made from Lokta bushes which grow on the southern slopes of the Nepali Himalayas between 5,250 and 13,000 feet.
When properly cut, the bushes can produce three to eight new, fast-growing shoots making Lokta paper one of the most renewable and eco-friendly non-tree papers.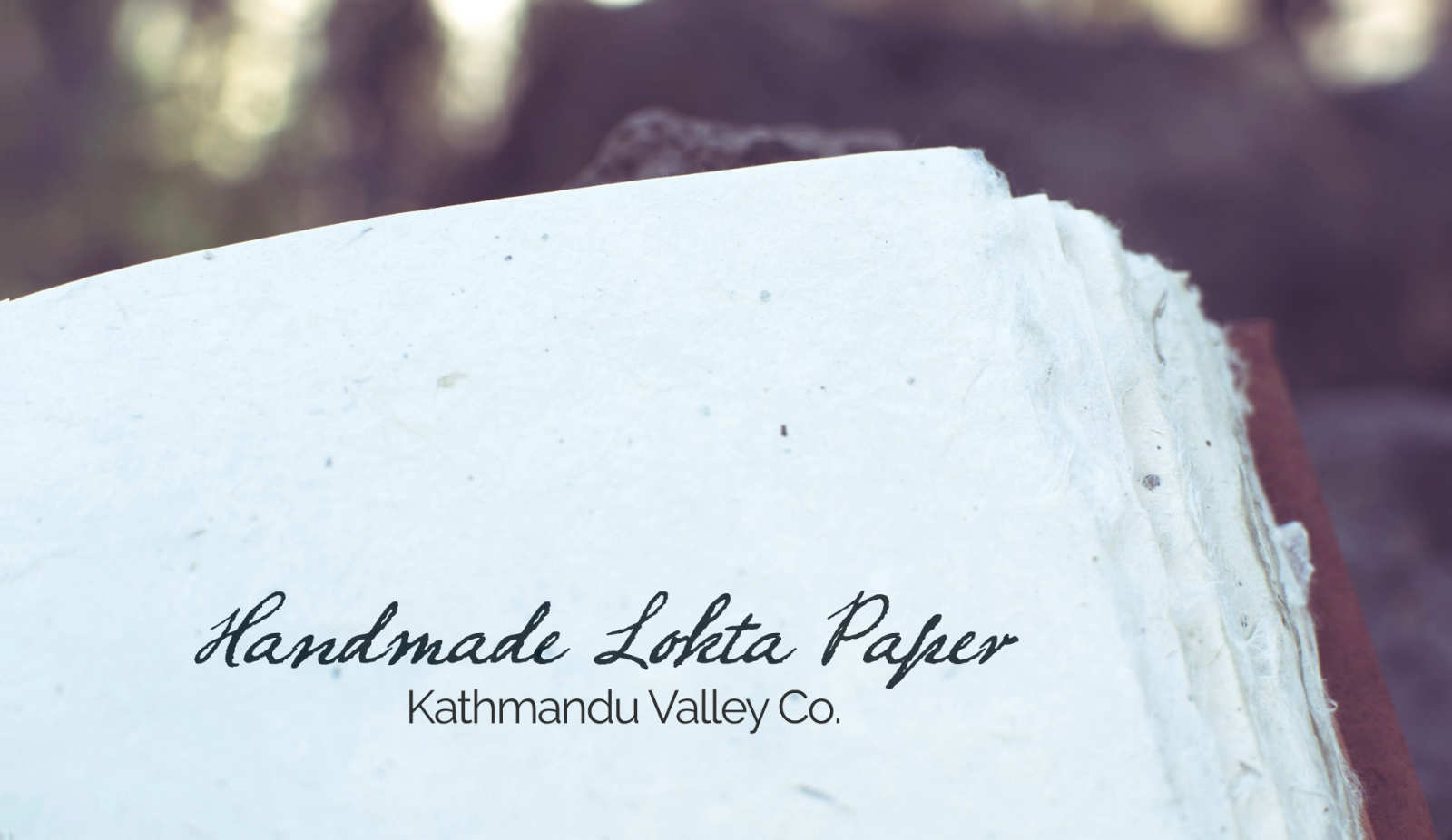 A Thousand-Year-Old Tradition
The oldest surviving Lokta paper is a religious text, a copy of the Karanya Buha Sutra Buddhist text estimated to be 1,000 to 1,900 years old.
Lokta paper has been produced using similar methods for centuries and that tradition continues today.
Also called Nepali Paper, Lokta paper is used for many official Nepali government documents. 
Lokta paper is fibrous and is more resistant to tearing than modern papers. 
The durability makes it perfect companion for the rugged terrain of Nepal from which the paper comes.
Our paper is not treated with harmful chemicals like today's commercial papers which are treated with bleach.
The paper is hand made in the rural, high altitude villages of Nepal and then carried down the Himalayas using the traditional paths and pack animals for transport.
Lokta paper has a beautiful texture containing natural flecks from the bush and can vary slightly in thickness from page to page due to the unique handcrafting process.
Daphne bholua and Daphne papyracea are the botanical names for the lokta bushes most commonly used in paper making.
Lokta bushes are not destroyed when harvested. A good cut from a harvested bush can regrow new shoots that can reach full height (nearly 15 feet) in about 5 years.
Lokta fibers are cooked in vats to soften and create a pulp that is spread over wood-framed screens and set to dry in the sun.
The fine texture from the screens can be seen and felt in the finished product adding to the beauty and uniqueness of the paper.
Lokta paper is acid-free and is widely regarded as one of the world's finest hand-made papers.
While others add regular or recycled paper to their production process, our paper is 100% Lokta.
For Laser and Inkjet Printers
Handmade Printer & Craft Paper
Not for journals, we also offer Lokta paper cut and calibrated to 8.5 x 11 inches for laser and inkjet printer paper as a natural and sustainable alternative to modern papers.
The computer paper comes in the traditional natural color, but is also handy for crafts, origami or scrapbooking projects with our vegetable and natural dyes producing saffron-dyed lokta printer paper from natural saffron..
View our list here of complete colored lokta printer & craft paper.
Two Sides of the Same Paper
Each sheet of lokta paper has a smooth side and a rougher, more naturally formed side called the sun-kissed side. This is due to the paper forming on the boxed screens.
One side of the paper forms against the screen used to hold the fiber pulp. Upon close inspection you can often see the fine pattern from the screen.
The other side, the sun-kissed side forms naturally as the fibers settle, creating the natural texture that gives lokta paper its unique feel.
Used by writers, artists, sketchers, journalers for creative projects or for official records, Lokta paper is a proud tradition unique to Nepal.
Take your journal with you on your travels whether it be to Everest, the Antarctic, and everywhere in-between, or keep it safe at home as a keepsake and record of your daily adventures. Kathmandu Valley Co. journals carry a rich tradition we know you'll love and enjoy.
View our Handmade Lokta Paper Products
Below is a sampling of some of our popular creations.
Help Support Talented Nepalese Artisans
Thank you for helping to preserve a 1,000-year-old tradition in Nepali paper making!